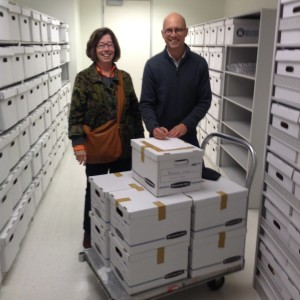 Several years ago I had the honor of delivering the papers of a friend and mentor to the Smithsonian Archives of American Art. Until that moment the fate of a lifetime's accumulation of letters, manuscripts, photographs and other biographical ephemera had hung in the balance. Passing away after a long and difficult illness, he had left his widow and daughter exhausted and overwhelmed with the Herculean task of figuring out what to do with his papers and artworks. A long and distinguished career had not given him blue-chip status, but his contribution had been significant and worthy of preservation. An oral history interview had been collected by the Smithsonian Archives of American Art in 1997, but no followup interview was conducted during the very productive years that preceded his final illness and death in 2012.
A few years ago I purchased a large painting out of a junk shop in Tarrytown, New York. I paid a few hundred dollars. The piece had been exhibited in a solo exhibition at the New Museum in the 1980s, by a living artist whom I know. These two events were a wakeup call for me, as they should be for any artist who finds oneself in the mid-list of the market.
Unless an artist can establish durable reference value by getting their papers in order and donating them to a research archive at a museum, university or library, scholars, journalists and biographers will be unable to retrieve information about an artist's life and work. It follows that the more accessible an artist is to researchers, the more likely they are to be studied. The same hold true for works of art. If an artist or their estate can make strategic donations of artwork to museums, universities and libraries, the easier it will be for researchers and curators to find their work. It follows that artists whose works are accessible will be more likely to be included in exhibitions and be discussed within the canon of whatever movement, style or milieu they are associated. This is all common sense, and yet many artists and their heirs are unprepared to undertake such efforts. This is partly due to living artists continuing to be focused on promoting active careers. It is also sue to a lack of information about how to approach questions pertaining to the physical legacy of a life in art, such as papers and artworks.
During a recent visit to the Michener Museum in Doylestown, Pennsylvania I met the director of education Zoriana Siolako. In discussing the matter of artists' legacies, Zoriana informed me that she sat on the board of the Senior Artists Initiative, a Philadelphia-based organization that conducts oral histories with artists whom it also assists with organizing archival materials. The Senior Artists Initiative commenced operations in 1998, partnering with local schools and museums. The downside is that S.A.I. is limited to providing this support to a select number of artists each year. More artists are worthy, but resources are limited.
Philadelphia has always sustained an independent art community. It might be said that the City of Brotherly Love cultivates an allergy being seen as a satellite to New York City (less than one hundred miles to the northeast).
Leading foundations maintain offices in Manhattan. NYFA–New York Foundation for the Arts, located in Brooklyn, is a resource to local, national and international artists. Pollock Krasner Foundation and the Adolph and Esther Gottlieb Foundation are exemplars of artist-estate philanthropy, providing direct monetary support to living artists. I have recently shared this concept with friends and contacts in here in New York, expressing the hope that some of these philanthropies may develop similar programs. Please pass this along to an artist you know.