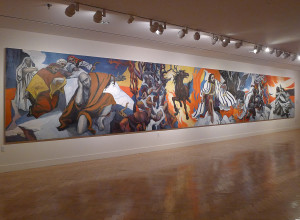 On December 4, 2012, oral historian James McElhinney and Chelsea Cooksey traveled to Rockland County, New York to collect an interview with American expressionist painter and printmaker Hugh Mesibov, for the Smithsonian Archives of American Art. He had recently celebrating his 97th birthday.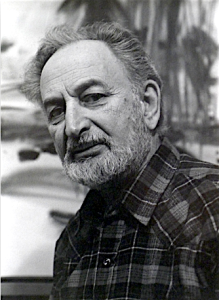 Born, raised and trained in Philadelphia, Mesibov was very active in the Works Progress Administration during the 1930's, painting canvases, murals and inventing new printmaking techniques. Later, during the 40's he moved to New York City, where he became a member of The Club – an informal artists' union that famously met at the Cedar Bar when Abstract Expressionism was in its heyday. Mesibov became close friends with Franz Kline and Ibram Lassaw.
In 1960 he moved his growing family to an old house in Rockland County; the home where McElhinney, assisted by Cooksey, met with him over the course of two days, years later. Hugh Mesibov passed away in March of 2016. A few months after Hugh's death I was invited by the Mesibov family to help them to establish a durable artistic legacy. This began with an assessment of his papers and artworks.
Already in the works was the pending gift to Yeshiva University Museum by The Reform Temple of Rockland County of a major mural by Mesibov, The Book of Job, which had been commissioned in 1969 by Temple Beth-El in Spring Valley, New York. Mesibov's reputation as a Modernist painter was known to the congregation, which requested that he approach the mural depicting the Book of Job with a more traditional style. In preparing to execute this massive canvas, Mesibov was able to draw on the skills he had learned working under the WPA. The painting was completed in 1972.
You are invited to attend a reception to celebrate the donation of this major work by a re-emerging American master on Wednesday October 26, at the Popper Gallery of Yeshiva University Museum, 15 West 16th Street, 10011.
A reception will be held in the Popper Gallery at the museum on Wednesday October 26, from 6-8pm. The mural will remain on view through January 15, 2017.